"Do not oppress a refugee; for you yourselves know how it feels to be refugees"
—Dr Churchill (Remash of Exodus 23:9)
There have been times when all of us were Asylum seekers, in some way or another; whether escaping evil haters, fighting forces beyond our control, and advancing our lives in the face of racial animosity.

And since today, we are facing a global crisis of involuntary people's movement, human beings' displacement, and attrition… I propose that we make a Compact to offer simple Human Kindness to all those who seek shelter from the storm of poverty, the winds of war, the evils of humanity's conflicts, and the systemic racism that pervades our country, and many others across the world.

As an example of current news — the war in Ukraine has led to the fastest-growing refugee emergency since World War II. Add to that the refugees from other nations and today the number of displaced people now exceeds 100 million.

Asylum seekers have been turned away from border after border and hundreds of millions of people face a terrible choice between flight and famine.

Or they have been falling into that state of "freeze" where they live indefinitely inside the vast refugee camps, the tent shack cities, and the refuge township areas, that have spawn across the world like mushrooms after the Autumn rains.

All the IDP camps, the UN war zones shelter camps, National displacement area camps, and even all the border crossing canopy camps — together they resemble the dregs of our civilization, where our humanity is sorely tested as it goes to die, and indeed dies each and every day.

Now, I propose that we have a duty to regain our own Humanity by clearly making our voices heard in support of refugees, because we absolutely have to stand alongside individuals, congregations and organizations across the country to learn more about the global crisis and how we can help, and then to go out of our way, to assist those who have been excluded from their own countries…

And as Americans we are most compassionate, fully knowing our place in History, and the Exceptionalism that has allowed us to be the leading nation of the free world, since for the first time in our history, we can adopt a refugee family seeking asylum in our country by banding-up with our friends, our family and our community, in order to create a group that is collectively responsible to help the newcomers settle in our community, learn our language, and become assimilated in our culture.

How cool is that ?

And while we do that — our actions represent our choice to stand up and speak against racism, act against the anti-immigrant hate, and fight back against white supremacism that stokes disdain, discrimination, downright physical violence, and at the governing and legislative level; leads to harmful policies and unhealthy nativist mindsets.

We see all around us how the dehumanizing language has motivated the resurfacing of "nativist" laws that are designed to exclude refugees, asylum seekers, and immigrants from our communities, our society and our nation, and have also caused a 10,000 x increase in Hate Crimes in the Pacific Northwest and across America with anti-semitic hate being the number one tripwire to gauge the racist resurgence of that particular venomous serpent that hatched these poisonous snakes of fascism, nazism and white supremacy of the wrong kind.

And as one example that had devastating consequences — we remember the antisemitic intentions of the laws and restrictions that drastically limited the number of Jews able to find refuge in the US, blocking an escape route and denying a safe harbor to those children and families that were eventually exterminated as Nazism swept across Europe and placed people in subhuman circumstances.

Yet, today we are united, fighting not to have history repeat itself when refugees and asylum seekers need our help and we turn away from them as our government did against the Jewish children refugees during the 2nd world war and these innocent human beings ended up being fodder for the Nazi extermination camps, of Auwswitz, Treblinka, and Matthauzen.

Unfortunately it was our lack of compassion, our distinct shortness of empathy, and our awful NIMBYism that allowed the Jewish Holocaust to go on unabated for more than a decade, while we turned away all Jewish refugees from our shores.

So if you wish to wash away that terrible stain from our collective Consciousness, and clear this burden from our National History — this is HOW YOU CAN GET INVOLVED to not only even the score, but to also assist some of today's desperate refugees, to find a safe harbor in our shores.

So, please join me in dedicating this day, to learn about the plight of refugees and asylum seekers, to speak out on their behalf, and to make it possible to go beyond what government can do by empowering our civil society to lift this burden.

And here is where you can find all the educational resources, avoid the bureaucratic tropes, and learn how you, your family, your church, your congregation and your community, can take action on supporting the refugees who seek shelter from the storm and bring them in their midst, to protect them and help them take root and perhaps even thrive in our soil.

A grand organization to help us do just that is HIAS which is the world's oldest refugee agency.

Though the organization was formally established as the Hebrew Immigrant Aid Society in 1902, that founding moment represented a continuation of several predecessor organizations that had worked through the 1880s and 1890s to assist Jews fleeing pogroms in Russia and Eastern Europe.

While those arriving in the United States at that time were refugees, the world did not yet have a legal concept for people who needed safe refuge outside their homelands.

Originally set up by Jews to help fellow Jews for reasons of religious imperative and communal solidarity, HIAS in the 2020s is a multi-continent, multi-pronged humanitarian aid and advocacy organization with thousands of employees dedicated to helping forcibly displaced persons around the world in keeping with the organization's Jewish ethical roots, while giving all of the necessary resources and organizing current events to educate and activate our people across the land:

Welcome Corps: A new program for private sponsorship of refugees.At a time when the most marginalized among us are at their most vulnerable — we invite you to join ADL and HIAS to show your support during Refugee Shabbat.

Climate Change and Forced Displacement webinar Feb. 5, 12:00 pm ET/9:00 am PT.

ADL Education Report: What is 'Title 42' and what does it have to do with seeking asylum?

Who is a refugee? And what does it have to do with you? Why should you care?

I cannot answer any of these questions for you, but you surely can…

And once you get the answers and understand these questions — I INVITE YOU TO IMAGINE YOURSELF IN THEIR SHOES…

Imagine you were suddenly uprooted to a completely new country after experiencing devastating trauma, uprooting, and displacement like so much refuge…

You get to a new place where everything is different, from the language, the culture, the laws, the climate, the weather, the customs, the religion, and so much more.

This is the daily experience for people removed from their own land and resettled as refugees in a new place across the oceans and the world.

Because in a time when more than 100 million people have fled their homes because of persecution or conflict, it is hard to imagine how one person, one group of people, one community, can make a difference. Yet, at its core, refugee resettlement is a local endeavor, and the involvement of the local community plays a significant role in helping newcomers successfully restart their lives.

Across the United States and Europe, groups of volunteers are stepping up to provide the supportive, caring reception that makes such a difference.
This is what HIAS Welcome Circles are all about.

What is a Welcome Circle?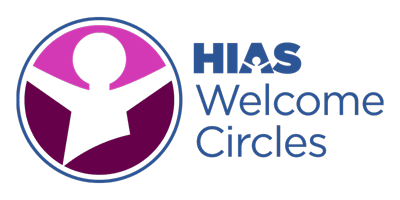 A Welcome Circle is a group of individuals who provide financial, resettlement, and emotional support to newcomers for six months until they reach self-sufficiency. Circles can form as part of a synagogue, organization, community center, or other faith or interfaith community, or they can be made up of private individuals.

Most circles have 5-8 core members who lead on different tasks, such as finding housing, signing up for benefits, helping enroll children in school, and assisting adults with job readiness and employment. In the U.S., HIAS works closely with Welcome Circles all over the country, providing volunteers with a wide range of support on all aspects of refugee resettlement, including dedicated support, specially developed resources, and access to a vibrant, online community. In Europe, HIAS works with Welcome Circles across the continent who are assisting those who have fled Ukraine.

Private Sponsorship Expands Capacity
While the number of people fleeing persecution and conflict continues to grow, fewer than 1% of refugees can access resettlement.

Today, the U.S. government recognizes private sponsorship as a way to increase resettlement capacity and is adding this option to the U.S. Refugee Admissions Program through the Welcome Corps initiative; HIAS will continue to evolve our Welcome Circle program so that it integrates with the Welcome Corps. The combined breadth and depth of our network of local resettlement partner agencies and HIAS Welcome Circles enables HIAS to help more refugees join communities across the U.S. and create opportunities for everyday Americans to play a meaningful, direct role in this process.

Why HIAS?

In 2021, HIAS launched the Welcome Circle initiative in response to the overwhelming need for additional resettlement capacity to help the 76,000 Afghans evacuated following the fall of Kabul. As part of the Sponsor Circle movement developed by the Community Sponsorship Hub, HIAS' network of volunteers, faith based, church sponsored, ethnic congregational, cultural, and unaffiliated individual and family groups — all came together to welcome Afghan evacuees into their communities.

And when Russia invaded Ukraine in 2022, displacing nearly eight million people from the country, HIAS' private citizen, community & family Welcome Circle model of support, met the needs of displaced Ukrainians too.

With all of our resettlement trauma care for refugees, and our unique combination of expertise and our extensive network of organized and active communities, HIAS has been a frontrunner in this fast-developing sector.

Today, building upon a Century of Experience, we can alter the course of our national discourse by taking direct action in helping those that need but cannot ask for our help. And because HIAS' expertise in refugee resettlement dates back to the agency's founding in the 1880s — we can rest assured that we know how to do this in a rather simple & effective way.

During the first century of HIAS existence, we resettled approximately 4,5 million Jewish refugees.

Today, we help all the refugees from around the world who are in prosecuted, or in distinct danger of death, and imminent terror. We welcome them, independent of who they are, regardless of race, religion, and nationality. And today, all across the United States, we resettle refugees and organize communities in partnership with our network of 27 local resettlement agencies, hundreds of congregations, churches and thousands of individual families and compassionate human beings.

By reading this — I am certain that you are one of those Righteous Human Beings that help the world stand upright in the face of evil.

And you can stand with me here too, because since the inception of the Welcome Circle program in late 2021, HIAS has trained, vetted, certified, and provided ongoing guidance to more than 83 circles across 17 states in the U.S., serving nearly 3,500 individuals to date. In Europe, HIAS has launched circles in 12 countries, hosting 35,000 displaced Ukrainians and Russians fleeing the tragic conflict unfolding unabated in their country.

HIAS believes that whenever possible, putting choice and agency in the hands of affected populations results in better resettlement outcomes and is now using RUTH (Refugees Uniting Through HIAS) a proprietary platform to help match forcibly displaced people in need of sponsorship with HIAS Welcome Circles in the U.S.

This novel technology, created with HIAS' academic partners Oxford University and Worcester Polytechnic Institute, captures refugees' resettlement preferences, considers any special circumstances and uses an algorithm code named RUTH, that uses AI in order to recommend optimal sponsors for the refugee families.

The RUTH program is utilized for asylum seekers, individuals with humanitarian status, and all those who fall into the State Department program which is currently available for Ukrainians, Venezuelans, Nicaraguans, Haitians, and Cubans to be resettled legally into our country.

Please note that all Welcome Circles must launch with a minimum of five people, over the age of 18 years old. Additionally, HIAS recommends the core group not to exceed eight to ten people, but as the old saw goes — the more the merrier…

Welcome Circles have to commit to a six-month period of support for the refugee family, with the goal of assisting adult newcomers to achieve self-sufficiency while taking care of their children, family and educational needs.

And while the national program requires a minimum three-month period, HIAS recommends a longer six-month timeline, but as you are well aware — these relationships are made to last a lifetime and often times become a multi-generational brotherhood.

Naturally, we have to raise funds in order to assist newcomers with their initial living expenses, and while the US national program requires a minimum of $2,275 per newcomer — in HIAS' experience this number often falls short of the realistic cost necessary to support the refugees, but as always little goes a long way and anything helps.

Also, in the event that you don't know what family size you are able to support — please do not fret, because – HIAS has the tools necessary to help you with this calculation.

Keep in mind that all refugees who come to the Welcome Circles, have already passed mandatory background checks and an online knowledge assessment on the roles and responsibilities of circles as part of the application process.

Yet, we always have to develop and submit a "Welcome Plan" which articulates the ways the "Welcome Circle" will connect newcomers to services during the initial resettlement phase.

This plan will cover securing housing, accessing benefits, connecting to healthcare and education, and other forms of community orientation.

So in conclusion — I invite you to dip your toes into this program because it shall give more meaning to your life and allow us to atone for our past tone-deaf approach to the Jewish refugee crisis during the Nazi Holocaust, that send millions of children to be murdered by the National Socialists of Europe and beyond…

We of course have our share of blame — but we are now better than that, because we learn form our History and vow to not repeat it.

So now that we all remember the Holocaust since its Memorial Day just passed — please light a candle in your window to signal to the world that refugees are welcome here, much like the good French peasant farmers did to let the fleeing Jews running through forests and fields at night away from the advancing Nazis — that this is a place they can receive a bit of sustainance and respite, from a world gone mad with blood lust & hate…

God Bless those righteous people who kept the world upright in the midst of that awful carnage we today call an abomination of our Human Race.

Thank you.

Yours,
Dr Churchill

PS:

Personally, am involved in three "Welcome Circles" in the three cities where I spend most of my time on this earth — and I would invite you to join me to create more…

You could contact me, about those three circles, or if you wish to create one in your community, in America or in the UK, but you can go ahead and create your own right here by contacting the HIAS Welcome Circles in the United States, via email to Andrea Gagne and Ermias Yoseph. 

Tell them who send you and receive my blessing as well as any assistance required to carry forth this Godly mission of Human Kindness…

You can do this because you are worthy of human greatness.